Events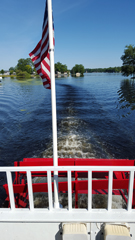 From the Deck of the Dixie
Dixie Ride and Carry-In Brunch
Saturday, June 15, 2019 at 9:30 AM. Provided by Dixie Sternwheeler, Inc. at no charge for WLCA members. Dixie Sternwheeler contributes this "Tom Plew Memorial Dixie Ride" in memory of Tom Plew. Mr. Plew volunteered many hours of service to both the Dixie and WLCA, and both organizations are better because of his efforts. This event kicks off the summer season at Webster Lake. All WLCA members and their families are encouraged to attend and enjoy a beautiful trip around Webster Lake on the Dixie. Bring a dish to share and enjoy brunch with your neighbors while cruising on the Dixie around one of the most historic lakes in Indiana.
Celebrating
the 4th of July
Fireworks
Saturday, July 6, 2019 at 10:00 PM. The WLCA organizes and contracts for the annual Fourth of July Fireworks show which has been a highlight of the Fourth of July holiday at Webster and Backwater Lakes for many years. The fireworks are funded exclusively by donations to the WLCA Fireworks Fund from the residents and businesses of the Webster Lake and North Webster area. Neither membership dues nor donations to the Invasive Species Fund of the WLCA are used to pay for the annual fireworks show. The rain date is Sunday, July 7.
Thanks to all lake area residents and local businesses and organizations for their contributions to WLCA's Fireworks Fund during 2018!